Although they are an important component of many websites and almost all online stores, very little appears to have been written about designing great category (also known as 'gallery') pages.
This is despite the fact the Jared Spool calls them the hardest working pages on your site given the key role they play in directing users to the correct end content.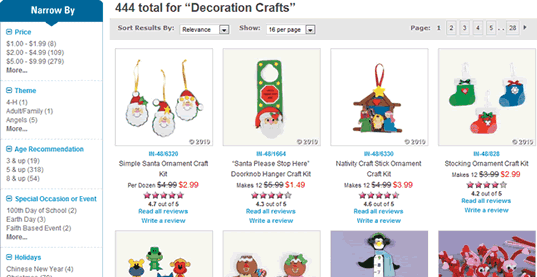 A well designed gallery page can be critical in reducing e-commerce site abandonment by preventing users from 'pogo sticking' back and forth from category page to product page in a vain search for the item they are looking for.
On large e-commerce websites in particular, gallery pages must present key information about a wide range of items in an easily scannable format so that users can make an informed decision to click through.
They also need to enable users to reduce the number of options presented through product filters (which could be features, review scores, price, brand, etc).
And we shouldn't forget that gallery pages need to present their products well through appealing imagery – not an easy task given the amount of space product images usually have on these types of pages.
Given the combination of content and functionality that gallery pages need to provide, it's not surprising that they can be difficult to design well. Which is why I've gathered a collection of some of the better gallery pages – from both a design and functionality perspective – as a reference.
View the gallery page design showcase.