While I'm on the theme of cheat sheets, Moz has made a new version of their SEO Cheat Sheet available.
This a useful reference for web developers who are less familiar with the ins-and-outs of SEO, and provides a high-level overview/reference of the important elements to consider when building a well constructed web page.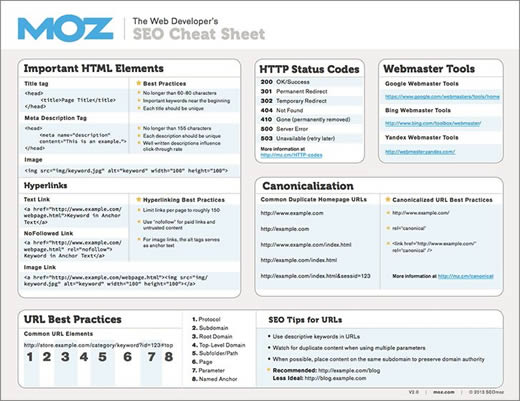 On a side note, I do take issue with the recommendation that the title tag be no longer than 60-80 characters.
Moz's own reference article on the title tag recommends that it be no longer than 70 characters, and my own experience has shown this to be true – otherwise, it will be truncated.
I'd also probably include a mention of avoiding special HTML characters, such as apostrophes or quotation marks, in meta tags as they can cause problems such as not rendering correctly or, when used in the meta description, causing it to be cut short.
I'd also try and fit in a mention of using rel=prev/next for pagination as it is an often overlooked link attribute.
Overall, the SEO cheat sheet is a handy, concise resource. Print it out and tape it to your wall/cube.