Everyone loves tourists (or rather, their money). And US states are no exception. That's why they have departments of tourism to promote them, and an official state tourism web site to do the same online.
Of course, since there are 50 states, there's a lot of competition for those tourist dollars, especially if you're not a destination state such as Florida or California.
So, you'd think that the official tourism web site for each state would try to show off its best 'assets' to maximum effect.
At least, I did — and I was wrong; very wrong in some cases.
The design quality of state department of tourism web sites ranges from top notch to not so much (where do you start?) with many lying somewhere in between.
So, let's have a look at these sites (or, at least, their home pages) in more detail. Most importantly, which ones actually made me want to visit?
All lists are in alphabetical order.
The Best US State Tourism Websites
California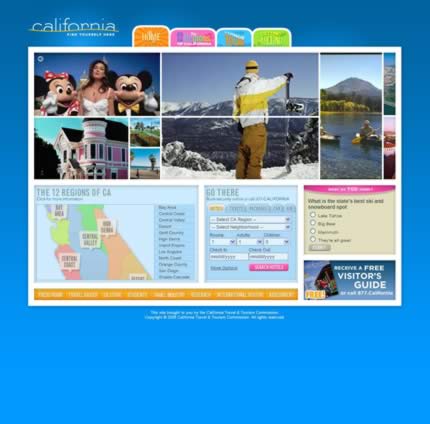 A static image doesn't do this site justice as it's very animated. Sums up what I expect the Californian experience to be very well.
Kentucky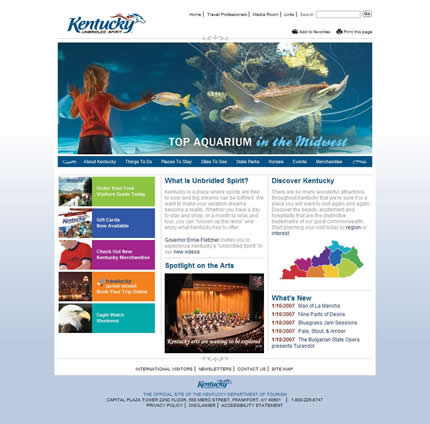 Minnesota
Uses the phrase "What's your pleasure?" for its 'quick links' drop down list. Nice touch.
North Carolina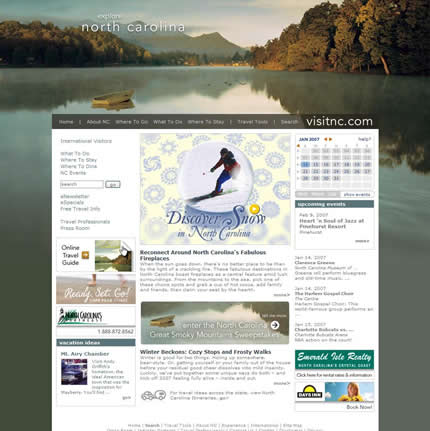 Excellent use of imagery. Definitely a pleasure to look at.
Oregon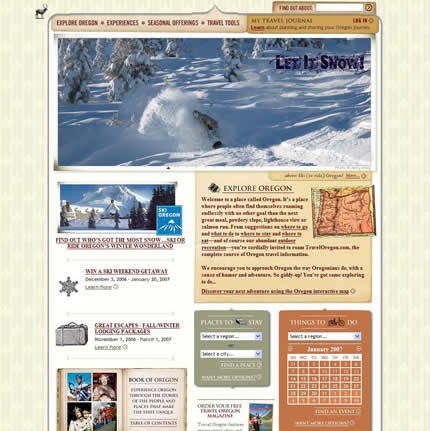 Wonderful design — my joint favorite along with Tennessee. Very nicely implemented Flash slide show.
South Dakota
Perhaps the biggest surprise of the lot. Made my best list because I didn't know what South Dakota was like but now I'm definitely intrigued to find out more based on the home page. They can lose the pink text though.
Tennessee
Fabulous design with wonderful attention to the details. Practically screams at you that there is lots to do in Tennessee.
Texas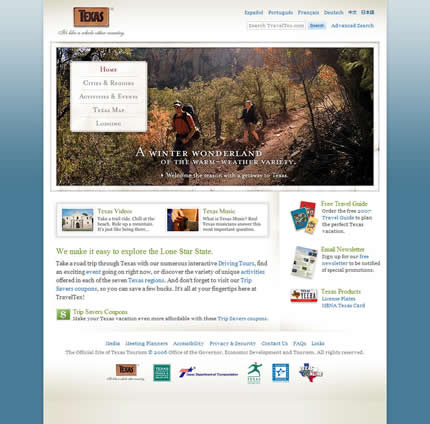 Breaks stereotypes of the state with an elegantly executed design.
Utah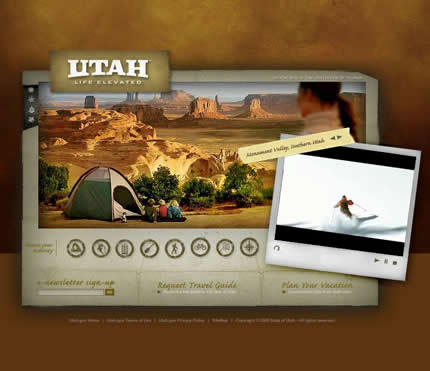 This is a great looking design — talk about an advert for the state!
Yes, there are some negatives — the unnecessary use of Flash to build the whole page, the lack of any real content and the 'mystery meat' navigation.
But does it make me want to visit? Heck yes it does.
The Second Tier
Alabama
Very nearly made it into my 'best' list. However, according to their web site, the state of Alabama doesn't have any upcoming events.
Not a good sign for anyone planning a visit.
Arizona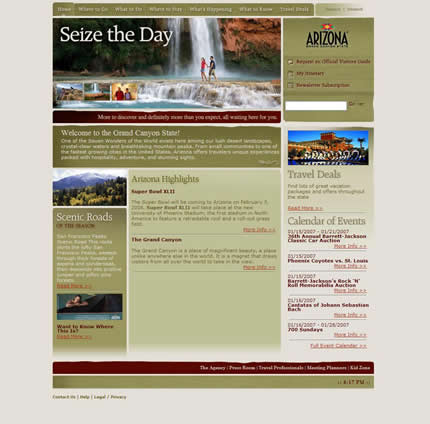 Colorado
That superb image makes me want to grab my snowboard and come visit.
Best tag line also — "Fresh air and fond memories served daily." Where do I book my flight?!
Connecticut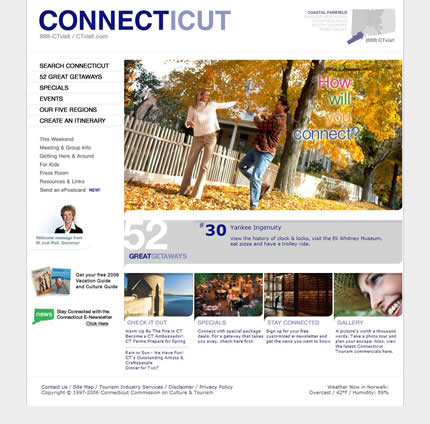 Certainly a well constructed site, although the design is perhaps a little too sterile.
Delaware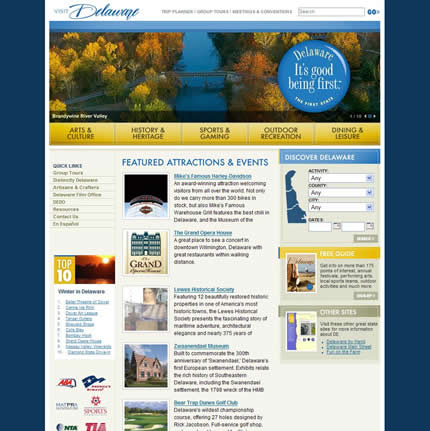 Delaware has the joint worst tag line for "It's good being first." And why would that be exactly?
Illinois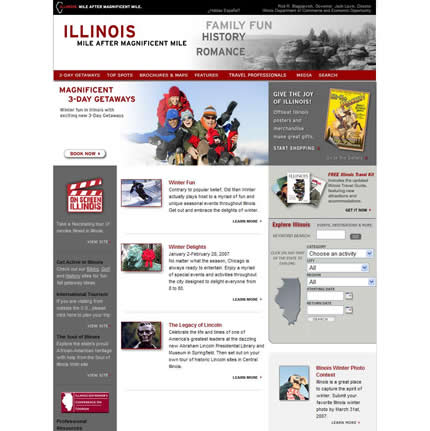 Except for the frigid color scheme, this is a nicely design site and a well laid-out home page.
Pennsylvania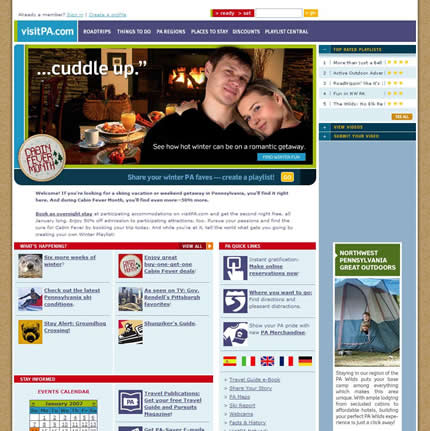 Kudos to Pennsylvania for venturing into the realm of user-submitted content.
However, what's up with "> ready > set" for your search label? What's wrong with "Search"?
The Rest of the State Tourism Websites
Alaska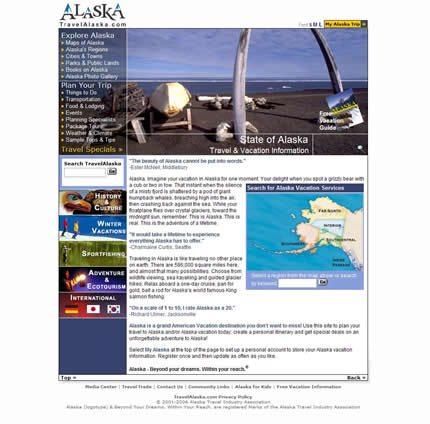 Arkansas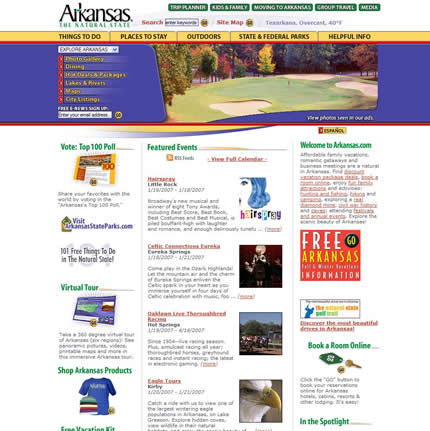 Florida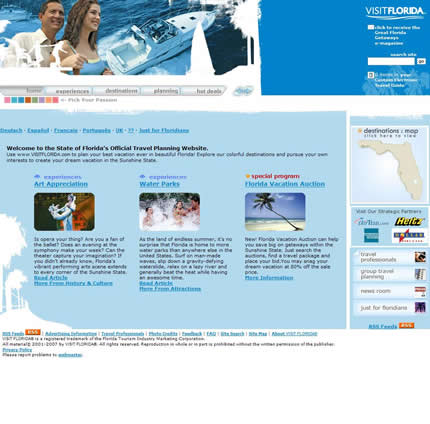 Georgia
Hawaii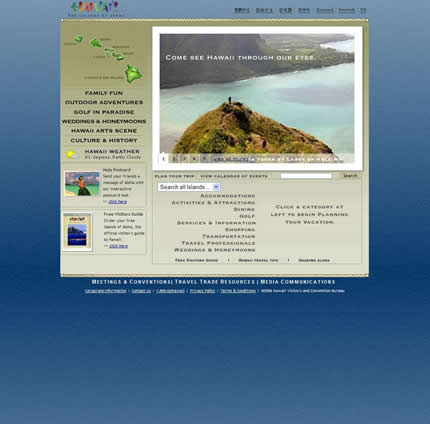 Idaho
Indiana
Could this home page make Indiana look any colder and grayer?
Iowa
Kansas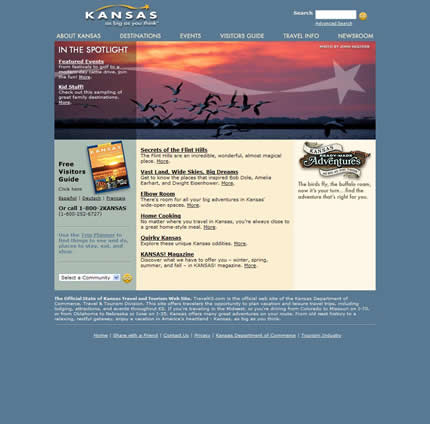 Kansas has the joint worst tag line for "as big as you think." And that's a good thing for a tourist?
Doesn't that mean I just have to spend more time in the car getting to places?
Louisiana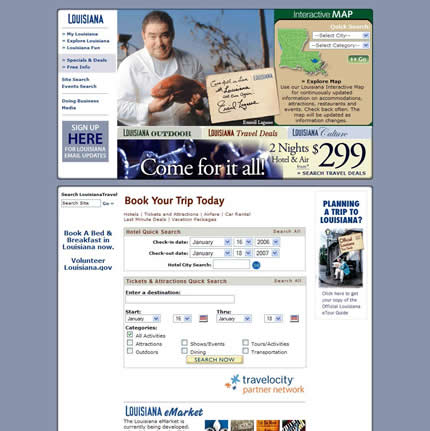 No mention of New Orleans? What gives?!
Maine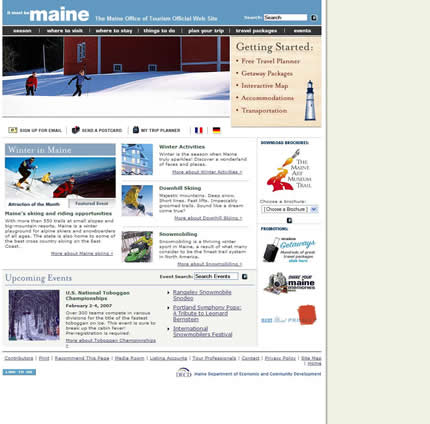 Maine has the joint worst tag line for "it must be Maine." What on earth does this mean?
Maryland
So, why are there photos of politicians in the masthead? Why is there a big "Stop Sex Offenders" link at the top of the page?
This is a tourism site remember — what kind of message is that going to send? And how about using a grid to layout your page?
Massachusetts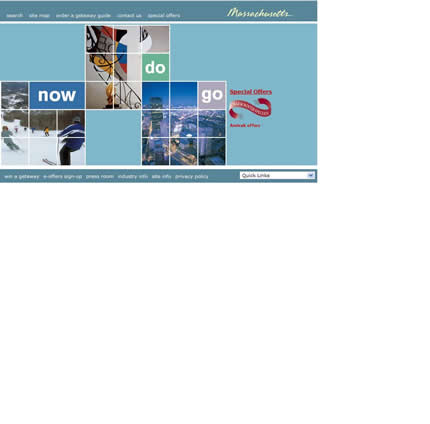 What's up with the mystery meat navigation? Please don't make me guess what I should be clicking on.
Michigan
Mississippi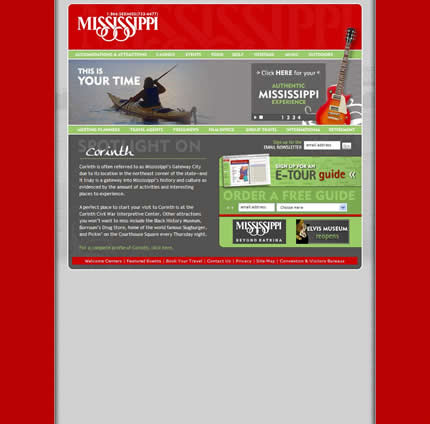 Missouri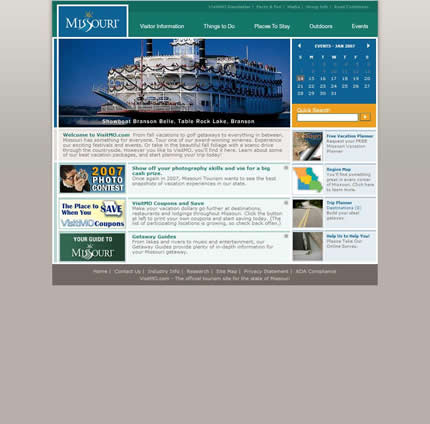 Montana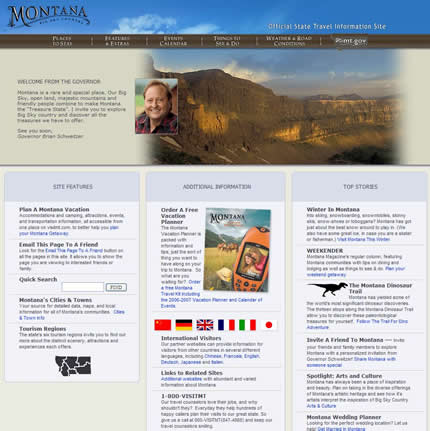 The wonderful images on the Montana home page are ruined by the poorly done feathering effect.
Nebraska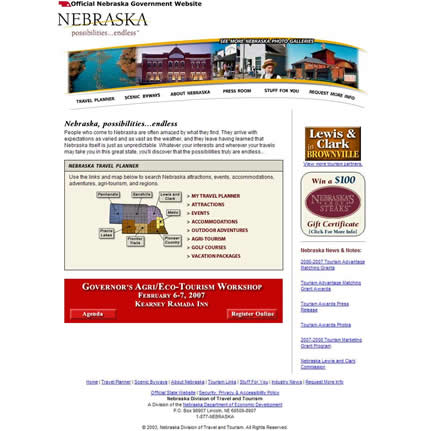 Why would anyone visit Nebraska based on its tourism web site? Having never visited, I know nothing about the state before I arrive at the site, and I still don't once I do.
It doesn't help that the copyright in the footer is 2003. I can see that they have a big "Agri/Eco-Tourism Workshop" coming up. Is that really what potential visitors want to know about?
Nevada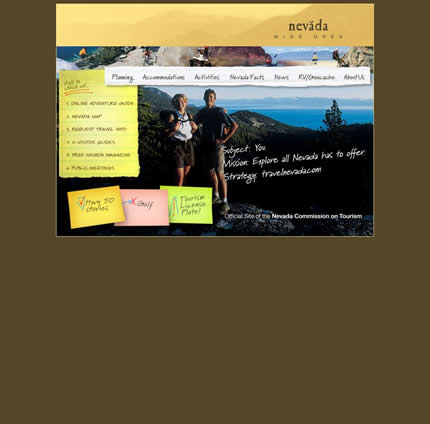 Nice try, but the whole post-it note, torn paper effect doesn't really work (it's a little clichéd) and falls apart once your mouse over the top navigation.
New Hampshire
New Jersey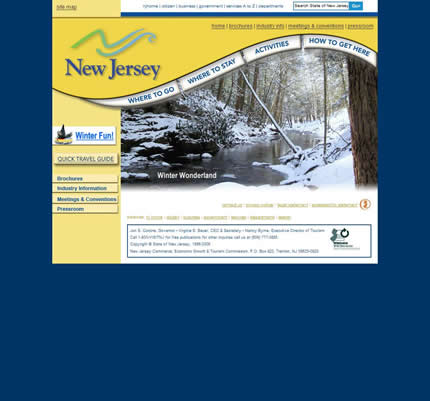 New Mexico
Why is "Take Our Survey" one of the main things you can do on this site?
This should be presented in a pop-up window or placed somewhere else on the home page, not in the main navigation bar.
New York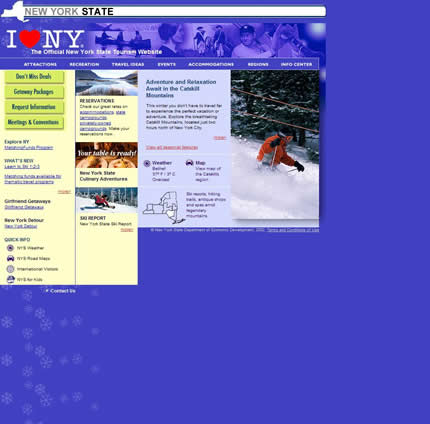 North Dakota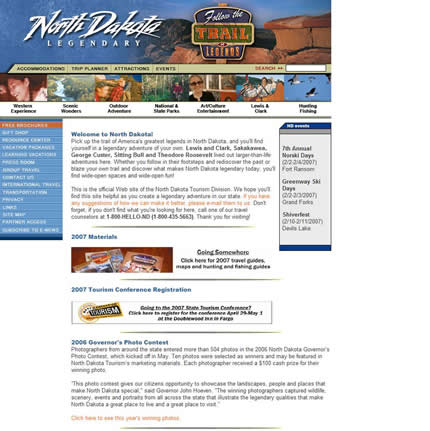 Ohio
Apparently, it's still fall (autumn) in Ohio.
Oklahoma
Words fail me.
Rhode Island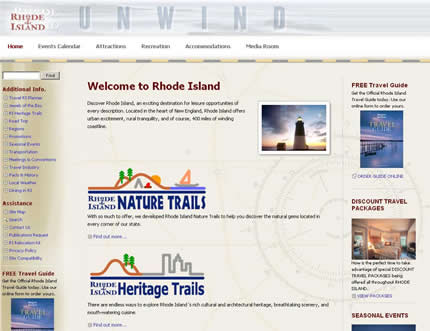 South Carolina
Could this home page be any more colorful? What's the color scheme here — try anything and see if it sticks?
Vermont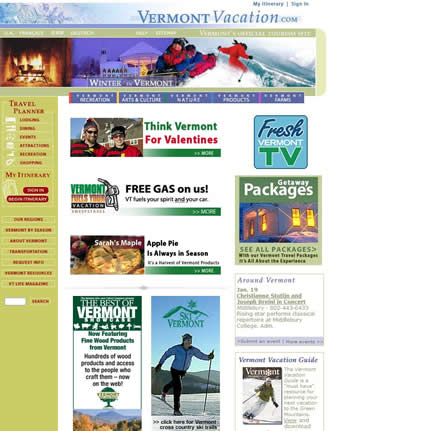 Is it me or does Vermont's site just seem like it's full of banner ads?
Virginia
Washington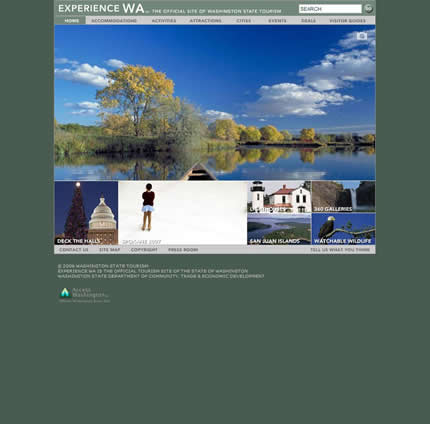 Nice photos but that all-Flash web site does not work in this context. Where's the content?
West Virginia
Wisconsin
Wyoming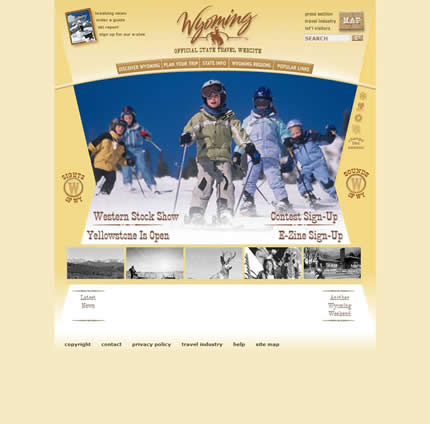 Another all-Flash web site. Sigh.
Update: I've updated the link and screenshot for Utah to be correct (find out why I mistakenly reviewed the wrong site). Rhode Island's site is back online, so I've added the correct screen shot for them too.